Whilst pop music is highly affected by the winds of swiftly changing trends, classics remain ageless and unaffected by the whims of fashion.
This is true of all music, not just academic music. When visiting Onuškis, a traditional venue for Trakai Region Musical Ensemble Festival Prie Ežerėlio, I was amazed by how authentic, yet at the same time relevant and vibrant, our wonderful folk music remains today.
The idea to organise a big festival presenting music from different regions of Lithuania – Aukštaitija, Suvalkija, Žemaitija, Coastal region and Dzūkija – was implemented in Trakai in 1997.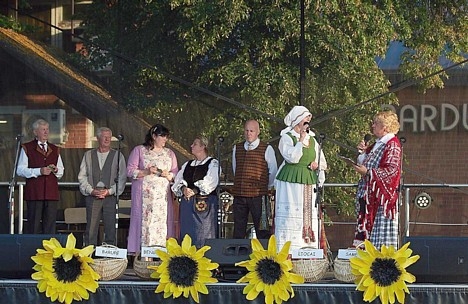 Since then, the annual event has drawn a diverse range of ensembles whose folk music represents the uniqueness and distinct dialect of their regions. Participants are surely welcomed on a vibrant and colourful journey not just through time, but also throughout Lithuania.
In a festival where folk music reigns, it was also a pleasure to catch a glimpse of national costumes, which also contribute in creating a unique image of the regions represented by the musicians.
Each of the folk music performances featured distinctive stylistic means and colour palette. More variety and different lovely colour was added to the event by the fact that some teams represented traditional and others stylised folk music.
The musicians were not only evaluated by a special jury, but the audience could also vote for their favourites, to the joyous atmosphere and excitement of the festive buzz.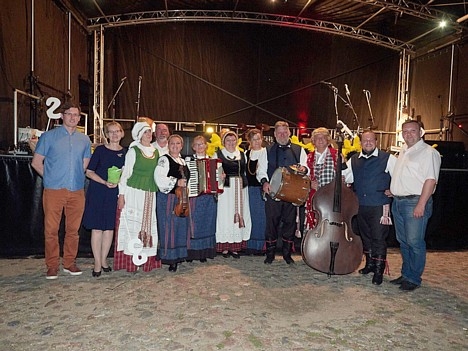 The merry evening of the fading summer with folk music flew by in a flash. You could see the historic Onuškis Square was filled with enthusiastic folk music lovers. Music, which is itself a bridge between the past and the present, can bring together people of different ages and life experiences.
Such events are not only an exceptional celebration for music lovers, but also undoubtedly a great way to preserve the old traditions by combining different regions of the country with many differences and even more commonalities, and to foster the community spirit.
Traveller memo
The venue of the traditional ensemble festival Prie ežerėlio is moving, and the chosen format changes every year. More information about this and other events in Trakai region – https://eventstrakai.lt/en.